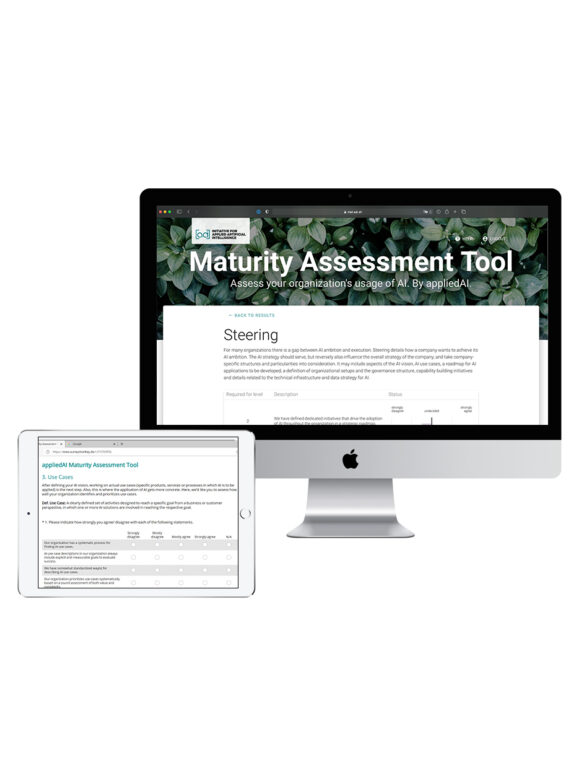 Developed by appliedAI, supported by BDI and Bitkom
The appliedAI Maturity Assessment Tool to evaluate your AI readiness
Assess your AI maturity and receive a comprehensive report for advancing on your AI journey
To help organizations on their transformational AI journey and support you in effectively planning and executing the right activities to start with or advance with AI, appliedAI has developed the AI Maturity Assessment, an interactive tool that allows you to assess your state of AI adoption. It is the leading AI maturity assessment tool in Europe used by various organizations already.
The tool was developed by appliedAI and is supported by BDI and Bitkom as partners.
understand your status quo
identify areas for improvement
introduce AI at scale in your organization
Take the Assessment
Your benefits from taking the AI Maturity Assessment
Understand the Status Quo
Understand your degree of AI maturity across different strategic dimensions. Gain insight into various aspects such as the visibility of an overall strategy, availability of skills and capabilities, IT infrastructure, data management, or the actual execution of AI projects.

Track Progress
A repeated assessment (e.g. annual) of your AI maturity allows for progress tracking: monitoring of successful initiatives and areas requiring further improvement. This helps you to steer transformation towards becoming a successful AI user.
Derive Development Potentials
Based on your performance across all dimensions, the Maturity Assessment Tool supports you to derive concrete development potentials that help you mature.
Free to Use
Our goal is to lift Europe to the AI age, guide your way towards AI maturity and shape the European AI ecosystem. Thus, we provide the Maturity Assessment Tool for free in Germany and beyond
Starting your AI maturity assessment is easy! All you have to do is follow a few simple steps:
1: Get on board: click on the link and create your personal account for the tool. Once logged in, you can create your first AI maturity assessment.
2. Configure your first assessment: The AI maturity assessment tool allows to derive detailed insights from different groups inside your organization (e.g., you might want to distinguish between the perceptions of your business units vs. IT team). The configuration interface guides you through this process of getting you ready to start!
3. Run your assessment: You may use the assessment by yourself, but the results are way more reliable and insightful, if multiple participants from your organization share their view (anonymously of course). This is where you should get your colleagues on board. We recommend to go with five or more participants per group. It's as easy as sending them a link that is created by our tool via which they can access the survey without any account or login.
4. Get your insights: Once your assessment is completed your AI maturity will automatically be analyzed and visualized in an online dashboard. The tool also provides recommendations that are tailored to your results.
So what are you waiting for? Get started now or use this presentation to discuss this tool with your colleagues!
Taking your organization to the next level of AI Maturity
The AI Journey
Applying AI at scale is a complex endeavor that requires long-term planning, engagement, and can only be reached in a transformative process. appliedAI has mapped out the different stages that organizations go through from first experiments with this new technology to enterprise-wide application of artificial intelligence at scale or even shaping the overall market and AI ecosystem. We call this the AI Journey.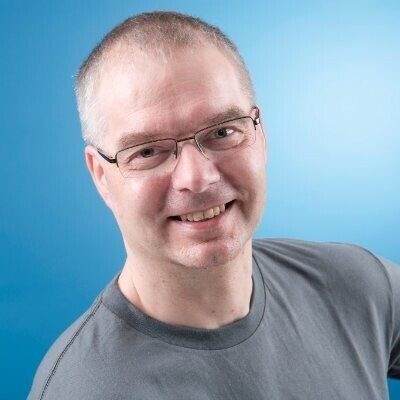 The appliedAI Initiative of UnternehmerTUM is a unique opportunity for academia, startups, the German Mittelstand, corporates, and technology companies to come together, work together, and learn together. It helps them to become a leader in applying AI. Google was an early partner and is continuing to invest in this partnership.

Dr. Wieland Holfelder, VP Engineering & Site Lead Google Munich
The Partners
In cooperation with

Technical realization partner