Gearing up for the Future of Business
"Artificial Intelligence is the game changing element in digital transformations going forward.
I strongly recommend executive and supervisory boards to review the topic and its implications thoroughly and take action!"
- Siegfried Russwurm, Chairman of the Supervisory Boards of thyssenkrupp and Voith

In a recent survey, 7 out of 10 companies reported "minimal or no impact of AI". You might start asking yourself whether the AI revolution is overblown. But what if AI isn't the problem? What if the problem is you? Yes, you successfully maneuvered previous technology waves: Mobile, Digital, and Big Data, to name just a few. You took them seriously and acted with determination, delegating the task to the unit in charge and holding it responsible for results. However, AI is a rather different animal, putting more pressure on you as the board to become educated and directly involved in a serious way.
The goal of this report is to describe how AI affects company board roles—individually and collectively—and to provide guidance on how to manage the change. Our discussion here draws from our extensive experience applying AI in business, complemented by a series of in-depth interviews with C-level executives.

Download the paper to learn what every board member needs to know about AI and understand some of the most important aspects of the process of AI transformation. Discover how AI affects various individual board roles, how these learnings can be readily be applied to boards and the 8 top priorities for Boards in the AI Journey.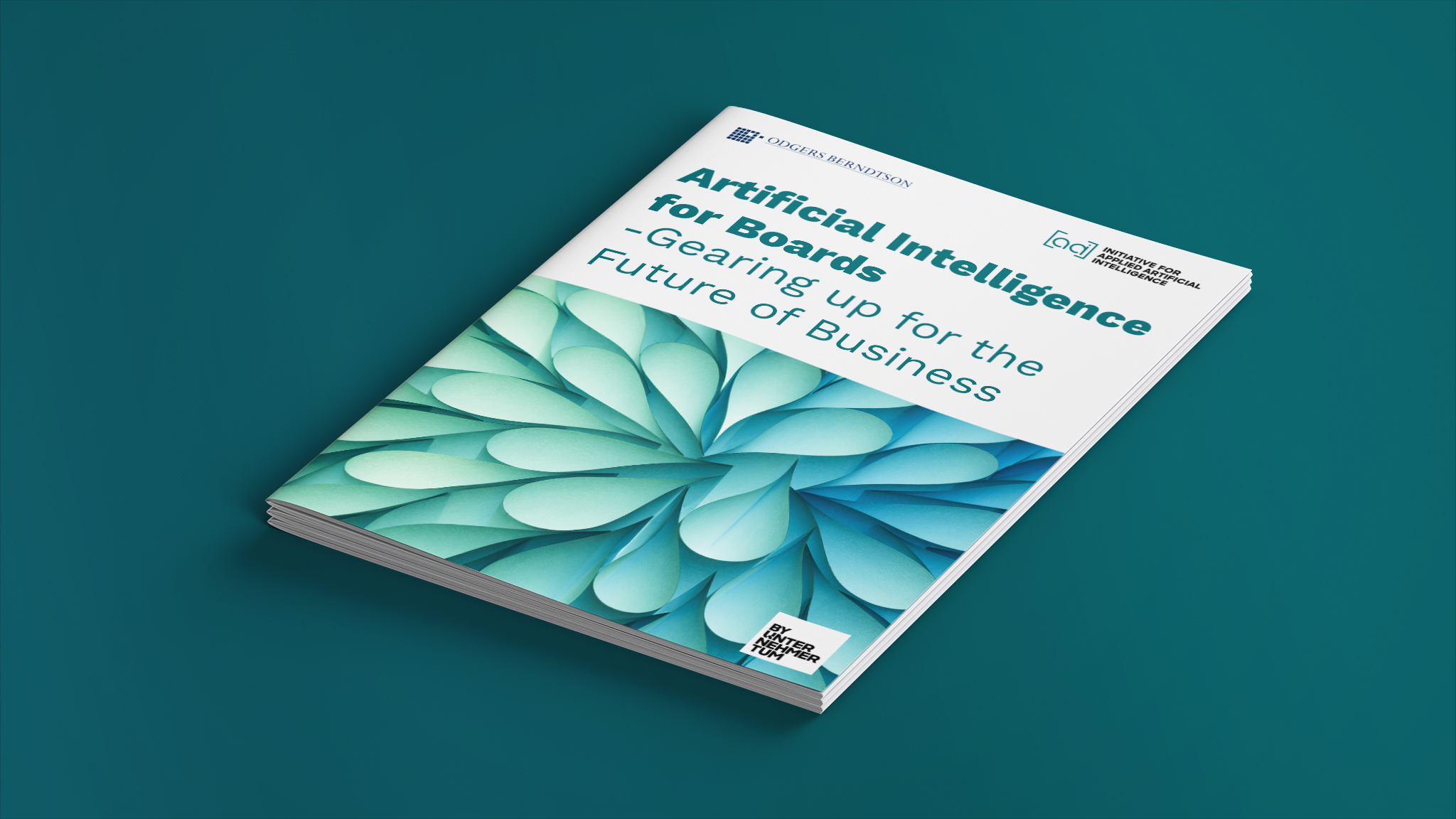 Helmut Martin-Jung, journalists at Germany's Sueddeutsche Zeitzung sat down with appliedAI's Philipp Gerbert and white paper contributor Siegfried Russwurm to discuss the paper. See the full interview in his article "KI ist kein Fertigprodukt".
The authors would like to thank all executives – named and unnamed – who have contributed to this report with their time for interviews and valuable comments:
• Alexander Eckert, Gerresheimer
• Carola Wahl
• Christian Sallach, Wago Kontakttechnik
• Dirk Ramhorst, Wacker Chemie
• Frank Mastiaux, EnBW
• Karsten Wildberger, EON
• Martin Weidlich, Mahle
• Matthias Ulbrich, Porsche
• Matthias Weber, Sandoz Germany
• Michael Tagscherer, Giesecke+Devrient
• Pauline Lindwall
• Ralf Herbrich, Zalando
• Reinhard Ploss, Infineon
• Roland Busch, Siemens
• Sabine Dietrich
• Sabine Jeschke, Deutsche Bahn
• Sebastian Klauke, Otto Group
• Siegfried Russwurm
• Stefan Vilsmeier, brainlab
• Thomas Blunck, MunichRe
• Wolfgang Hauner, Allianz

Philipp Gerbert is Future Shaper of UnternehmerTUM and Director at appliedAI. Previous activities include many years as Senior Partner and Lead of Digital Strategy at BCG, Fellow for AI in Business at the BCG Henderson Institute, as well as a Partner at the McKenna Group in Silicon Valley. He holds a PhD in Physics from the Massachusetts Institute of Technology (MIT).

Philipp Hartmann serves appliedAI as Director of AI Strategy. Prior to joining appliedAI, he spent four years at McKinsey & Company as a strategy consultant. Philipp holds a PhD from Technical University of Munich where he investigated factors of competitive advantage in Artificial Intelligence.
Andreas Liebl is Managing Director at UnternehmerTUM as well as appliedAI. Before joining UnternehmerTUM, he worked for McKinsey & Company for five years and completed his PhD at the Entrepreneurship Research Institute at the Technical University of Munich. He currently serves as an expert in the Global Partnership on AI (GPAI) advising on innovation and commercialization of AI.
Markus Trost is Partner at Odgers Berndtson's Global Tech Practice. He handles senior executive search assigments in tech companies and leadership positions with focus on technology and innovation. Markus holds a Master Degree in Industrial Engineering from KIT and a postgraduate education from Harvard Business School, INSEAD and IMD.
Emanuel Pfister is Principal at Odgers Berndtson. Prior to joining Odgers Berndtson in 2014, he gained his first experiences in executive research during his studies and moved 2010 to a well-known Consultancy where he was responsible for executive search projects in the industry and automotive sectors. After completing a technical apprenticeship in Switzerland, Emanuel studied Politics, Sociology and Modern German Literature. He holds an M.A. from the Ludwig-Maximilians-University in Munich.