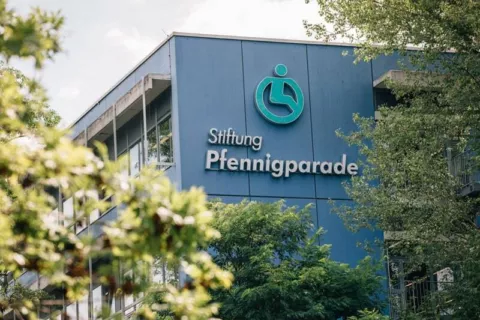 Stiftung Pfennigparade: Changing the world of work through AI
Artificial intelligence is a key technology that opens up new business areas and can increase efficiency by optimizing processes through more targeted and sustainable use of resources. However, it also changes existing business fields and challenges companies to rethink their approach in order to not miss out on the AI transformation and jump on the AI journey train.
The Stiftung Pfennigparade also deals with the question of how AI will change its business fields and what new opportunities this change will bring.
Project Background
Since its founding as a citizen movement to combat the polio epidemic in the early 1950s, Pfennigparade has accompanied people with disabilities throughout all phases of life and offers them job opportunities with the motto: Think entrepreneurially – act socially.
The range of services offered by the three non-profit service companies of the Pfennigparade Foundation BKG, PSG and SIGMETA includes document services, commercial services, technical services, electrical testing and demanding IT services, including digital accessibility.
Although operating as a non-profit organization, the company has been facing massive market changes for decades with its three GmbHs: an inclusion company and two GmbHs that are part of a recognized workshop for people with physical disabilities. The disability rate among the approximately 340 employees is over 60%. This unique requirement places the foundation in a field of tension between a special employee clientele, compliance with legal requirements for non-profit organizations, and the demands for services in an international and competition-driven customer environment.
The transformation of the working world in the direction of digitization and AI are developments that noticeably endanger such simpler areas of responsibility for employees, especially in the areas of commercial services and document services that are particularly important for Pfennigparade.

Uncertainty about what AI is all about and the potential applications for customers and the foundation itself led Pfennigparade to look for a specialist to help them understand the topic.

It found what it was looking for at appliedAI. Together, Pfennigparade and appliedAI took up the problem in order to evaluate what potential there is for the foundation to jump on the AI transformation, to get concerns out of the way and to take advantage of the opportunity to build up new business areas in the context of workplace change.
Project Approach
appliedAI, as the leading European initiative for the application of AI, has made it its mission to support the economy and businesses in using AI. appliedAI is convinced that we must take an active role in shaping whether and how AI will change our lives and society in the future. For this reason, it is of great importance to find forward-looking answers for groups of people with special needs.
To uncover the potential of AI for the foundation, provide an introduction to AI, and clarify uncertainties about job changes, appliedAI has provided the non-profit foundation with a free lecture on the basics of AI and a workshop to develop strategic approaches. The foundation approached appliedAI with targeted questions ranging from definition, to areas of application, to ethical issues.
"Not in an abstract way, but with the help of a large number of concrete examples, we were taken into a fascinating field. The fact that AI may not only pose a threat, but could also offer opportunities for our employees with simpler skills, was the core of our second appointment with workshop character." Ulla Neuner, authorized signatory of the Pfennigparade Foundation BKG, PSG and SIGMETA

The workload of commercial staff in manual invoice verification has declined massively over the past three years since AI was introduced to corporate customers. Instead of 1.1 million invoices, just under 100,000 audit documents are expected in 2022. For document service employees, activities such as scan preparation, indexing and labeling of paper documents are also decreasing sharply due to increasing digitization.

However, employees with lower skill levels are trained to perform routine and uniform activities over a long period of time with extremely low error rates - a fact that has already been praised by many of the foundation's long-standing customers. In the joint workshop, it was possible to identify that this strength of the employees qualifies them as ideal staffing in the implementation phase of an AI project.

In the implementation of AI systems, about 70% of the task load is in data preparation and labeling or data qualification. This time-consuming task is usually reluctantly taken on by AI project staff, but Pfennigparade staff in particular are predestined to perform it with a low error rate. Because of this, this business area offers an optimal option for Pfennigparade to jump on the AI transformation bandwagon and open up new business areas by changing the world of work.

This offers the opportunity to move away from declining jobs such as invoice verification and scan preparation, and toward the more forward-looking tasks increasingly in demand when implementing AI systems, such as data enrichment, data qualification and data labeling.

"Together with the employees of Pfennigparade, we have derived AI potentials. For example, we see potential in the improvement of internal processes as well as the personalization of AI applications for external companies." Susanne Klausing, AI Strategist at appliedAI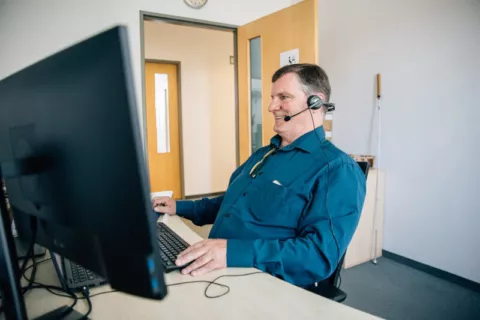 Outlook
Currently, the foundation is examining how to turn the already noticeable risk of a decline in orders into an opportunity by leveraging the potentials identified in the workshop with appliedAI, and to position the company optimally in this newly created field of activity.
To achieve this, the company will engage in exploratory talks with existing customers in the IT and digitalization sectors in the next step, to clarify where there is a need for AI within the company, to explore new areas of activity and to initiate the transition to the field of AI data preparation and data labeling.
In addition, in the coming months, the remaining open aspects such as market size, cost structure of data enrichment, framework conditions, possible exclusion criteria, as well as opportunities for collaboration with software developers or users on the customer side, must also be analyzed.
As part of this, expert talks are planned to build up know-how with AI project teams and IT managers. Discussions on potential with AI startups are also planned. To build up AI know-how, Pfennigparade plans to make use of the consulting services provided free of charge by the "Zukunftszentrum Süd" for Bavaria and Baden-Württemberg, a project team that supports SMEs with consulting and training services to take advantage of the opportunities offered by digital transformation and artificial intelligence.

By means of the freely accessible online AI introductory courses from appliedAI (see also Foundations of AI and Elements of AI), Pfennigparade will also be able to build up basic knowledge in the field of AI in the new year in order to better meet the requirements and needs of AI-first companies and identify further potential.

In addition to exploratory talks and know-how development, SWOT analyses are planned that will serve as a further decision-making aid as to how the company can best enter the field of artificial intelligence and expand it most efficiently.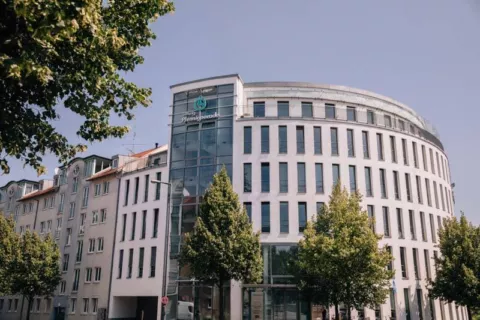 AI for good
appliedAI is a non-profit initiative advocating for responsible and value-creating use of AI in society, and supports socially responsible companies in benefiting from and utilizing AI transformation.
In addition to supporting the Pfennigparade Foundation and providing training for the German Teachers' Association, another example of appliedAI's social impact can be found in the case study on their involvement with the World Food Programme.
Are you interested in collaborating with Pfennigparade?
In cooperation with
Stiftung Pfennigparade
Do you have any questions about the partnership? Talk to us