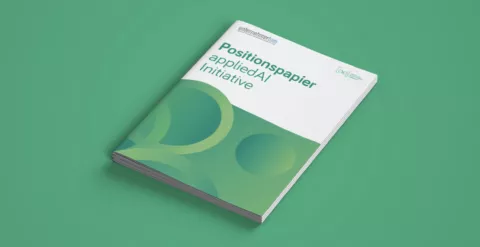 Response to the key points paper on the German AI strategy 2018
"Germany can only be a strong player on the global stage of AI if politics understands that it is necessary to be bold, determined, and optimistic - now."
Dr. Andreas Liebl, Managing Director of the appliedAI Initiative.
The German government will publish Germany's AI strategy in the fall of 2018. The position paper is a response to the government's analysis from June. It is intended to serve as a blueprint and call to action for politics and the public on how Germany should use AI to keep pace with the world in the AI race.
The key points are:
Create a positive vision for AI in Germany and Europe
Focus funding on a few AI centers in Germany to pool resources
Pursue a holistic approach to the application of AI (economy, science, society, politics)
Train professionals and users in AI
Support German AI startups
Enable AI research and transformation in companies
Introduce AI in schools and universities
Improve the exchange and dialogue between research and industry
Create legal frameworks for open data sources and test labs
The appliedAI initiative is the initiator, but the position paper is the result of many contributors. appliedAI has discussed, analyzed, and planned the future of AI in the German economy and society with a whole network of decision-makers and forward-thinking personalities.


---
The supporters are:
Markus Löffler, Group Chief Technology Officer at Allianz SE
Thomas Kremer, Board Member for Data Privacy, Legal Affairs, and Compliance at Deutsche Telekom AG
Stefan Läufer, Head of Digitization at GC Gruppe
Ralf Wintergerst, CEO at Giesecke+Devrient GmbH
Wieland Holfelder, Vice President of Engineering & Site Lead Google Munich at Google
Hoffmann GmbH Quality Tools
Reinhard Ploss, CEO at Infineon Technologies AG
Christian Bruch, Member of the Executive Board at Linde AG
Wolfgang Hauner, Chief Data Officer at Munich Reinsurance Company
Walter Mundt-Blum, VP Strategic Alliance / EMEA at NVIDIA
Eberhard Weiblen, CEO at Porsche Consulting
Carl McQuillan, VP Technical Services EMEA at Pure Storage
Bernd Leukert, Member of Executive Board, Products & Innovation at SAP SE
Matthias Weber, CFO; Piero Sciotto, Head Supply Chain and Procurist at Sandoz Deutschland / HEXAL AG
Norbert Lütke-Entrup, Head of Technology & Innovation Management at Siemens AG
Dirk Ramhorst, CIO/CDO at Wacker Chemie AG
Download now (It is only available in German)