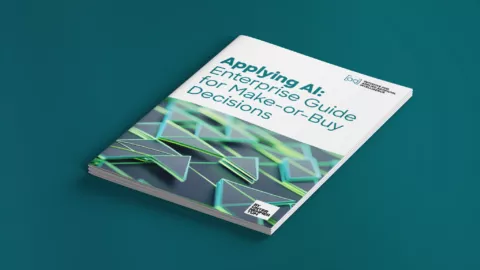 Corporate Guide for Make-or-Buy Decisions
"The field of AI is developing at a rapid pace, and hardly any company is (or should be) able to tackle all the issues on its own. A systematic approach to the make-or-buy decision is needed. However, to date most companies have not approached this question systematically at all or, even worse, they have simply delegated this decision to their standard IT purchasing process."
As the use of AI applications increases in all areas of a company - from marketing to customer service to production control - a question becomes more pressing: Should we develop AI solutions internally or buy commercial software? In short, it's the age-old make-or-buy question.
This report aims to provide guidance for make-or-buy decisions in AI. It covers the following topics:
General structure of the make-or-buy question for AI.
A framework with decision criteria for solving the make-or-buy question for an individual use case from a life cycle perspective.
Selecting the optimal partner, possible pitfalls of different partner types, and aspects of a good partnering strategy.
Elements for contracting in the context of AI use cases, including a set of guiding questions.
This report is the result of the appliedAI working group on Make-or-Buy Decisions in AI and is based on the experiences of leading experts from appliedAI partner companies:
Dr. Stefan Dierks, Senior Development Engineer, Corporate R&D at Rohde&Schwarz GmbH & Co. KG
Matthias Neuenhofer, Project Manager Corporate Strategy at BayWa AG
Daniela Rittmeier, Head of AI Hub, Artificial Intelligence Center of Excellence at BMW Group
Thorsten Stein, Purchaser for Data Science at BMW Group

---
Authors of the whitepaper:
Andreas Liebl, Managing Director at UnternehmerTUM and appliedAI Initiative
Philipp Hartmann, Director of AI Strategy at appliedAI Initiative
Maria Schamberger, Senior AI Strategist at appliedAI Initiative