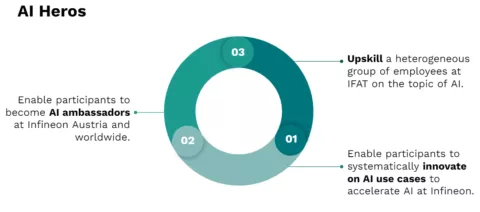 Infineon: AI Heroes Training Program
Accelerate AI at Infineon Austria
"Grow your knowledge and best practices in AI innovation! AI is about creating change and you can be a change ambassador for our organization with all your learnings. This know-how will get you far – and the last mile you will walk by radiating your enthusiasm and convincing allies. I wish you all the best for our joint AI journey!" Sabine Herlitschka, CEO Infineon Austria
As a leading semiconductor manufacturer, Infineon Technologies helps its customers realize their ambitions in the field of artificial intelligence. For this reason, Infineon continuously trains its employees to become an "AI innovation muscle".
In this context, Infineon has launched a new AI program at its Austrian site in Villach. Within 4 months, employees from various departments can develop new skills together and realize their own AI project.
Together with appliedAI, they increase their AI maturity and systematically learn to design and scale AI solutions.
Program Background
"AI is always a team sport. We are thrilled to bring together technical, business and strategy experts of Infineon with appliedAI change makers behind one goal: Bringing AI Innovation to the next level at Infineon Austria and beyond!" Nico Kelling, Head of Infineon's AI Center of Excellence
The program was launched by Infineon's AI Center of Excellence Team in Munich in collaboration with Infineon Austria (IFAT). The success was made possible by the strong support of Sabine Herlitschka, Managing Director of Infineon Austria, and supported by Infineon's Innovation Accelerator Program.
Infineon approached appliedAI with the idea of offering an AI innovation program at its Austrian location in Villach. Together, appliedAI and Infineon developed the concept for a practical training program, which is being piloted at Infineon Austria.
The resulting training program, AI Heroes, aims to achieve the following three goals:
Further education of a heterogeneous group of IFAT employees on the topic of AI.
Enabling participants to systematically develop innovations for AI use cases, accelerating AI at Infineon.
Participants will become AI ambassadors at Infineon Austria and worldwide.
The following case study provides insights into this innovative educational offering and its results. Learn about an efficient and holistic way to educate a large number of employees in your company on the topic of AI.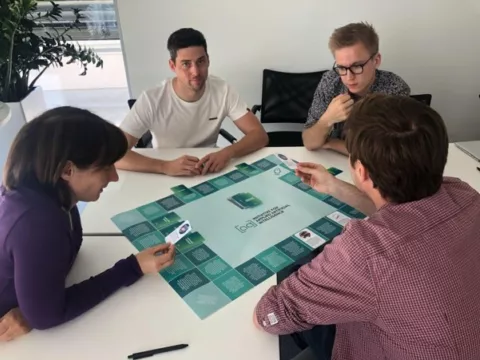 Initial Situation and Problem Statement
As a high-tech company, Infineon has an excellent environment for AI innovations: technical and business experts are well aware of the importance of AI and the new opportunities it opens up. However, in daily business life (especially in a situation of chip shortage where everyone is busy), many employees do not have the time and resources to think openly about new AI ideas.
For this reason, Infineon wanted to create a free space where AI enthusiasts can explore the potential of AI more deeply and develop their own ideas for AI applications. Combining the potential of Infineon chip hardware with the possibilities of AI in a creative way will strengthen Infineon's future portfolio.
Building a strong network of AI enthusiasts was at the heart of the new program and will act as a driver for change to achieve a high level of AI maturity in the company.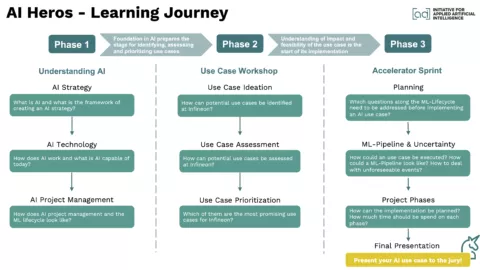 Approach and Methodology
The innovative learning program was developed by appliedAI, taking into account the needs of the learners. In the first step, an interdisciplinary team of instructional designers, AI engineers, and AI strategists was formed to ensure that different perspectives are incorporated into the project.
The first milestone was achieved through the development of an extensive learning journey tailored to the specifications and requirements of Infineon Austria (IFAT).
Format
AI Heroes was designed using a blended learning approach. Blended learning describes a teaching method that combines asynchronous and computer-mediated self-study with synchronous face-to-face sessions. This allows participants to prepare for the live sessions, which increases the success and engagement of learners. Specifically, learners were provided with reading materials and some guiding questions beforehand, which they were to answer in an online forum. During the face-to-face sessions, these answers were discussed and contextualized. During the live sessions, participants had the opportunity to individually acquire new information and share it with their colleagues.
While the training materials were developed by AppliedAI's instructional designers in collaboration with various subject matter experts, the actual live sessions were led by AI engineers and AI strategists. This gave participants the opportunity to interact with AI experts.
Infineon organized events to strengthen the AI community and stimulate AI-related discussions within the company. For example, Infineon organized fireside chats, Q&A sessions, and an in-depth welcome day for its future AI heroes.
Implementation of the Pilot Project
The training was initially conducted as a pilot program over a period of nine weeks in the spring of 2022, consisting of nine training days. Overall, the feedback from both Infineon and the participants themselves was very positive. Of course, the participants provided insightful and constructive feedback.

In summary, the participants left the program with the following feedback:
The program provided a good overview of AI and its various aspects
The interactive elements were highly appreciated
The trainers were appreciated for their comprehensive knowledge
The jury, which was present on the final day of presentations, attested to the very high quality of the AI use cases presented and planned: they ranged from anomaly detection in manufacturing to intelligent project planning and AI for sustainable battery management.

Four of the imaginative use cases will continue after the program and have already secured funding for the next phase - a testament to the excellent and relevant work of the participants who brought these ideas to life.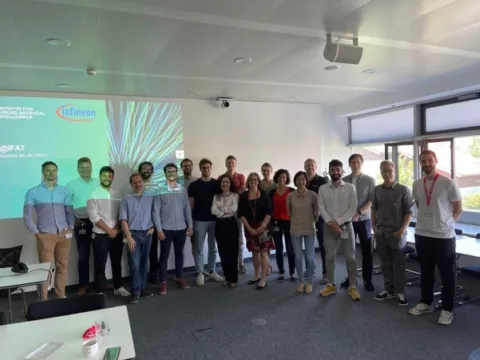 Results and Next Steps
Due to its great success, a new series of Austrian "AI Heroes" will embark on their innovation journey in the year 2023. Further information about AI at Infineon can be found here. (Link to English page)
In partnership with
Infineon Technologies AG
Do you have any questions about the partnership? Talk to us