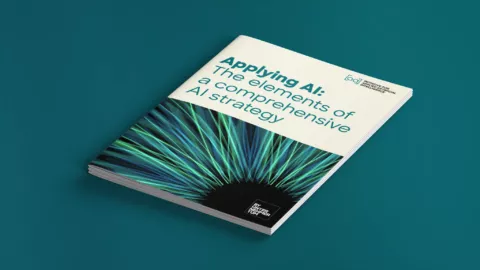 "In the past, many CEOs of the S&P 500 wished they had started thinking about their internet strategy earlier than they did. I think in five years, there will be some CEOs in the S&P 500 who will wish they had started thinking about their AI strategy earlier." Andrew Ng - Founder of DeepLearning.AI; Managing General Partner of AI Fund; Founder and CEO of Landing AI
Artificial intelligence is the technology of the future and is becoming relevant to all businesses - regardless of their industry or size. Many companies are already investing in AI to optimize their products, services, and processes. However, the implemented AI applications do not generate the hoped-for added value in many companies. The reasons for this are similar.
Many companies do not know what purpose AI should serve and in which cases it should be used. There is also no uniform procedure with regard to the necessary prerequisites and prioritization in the event of problems. In short, there is no AI strategy.

However, to successfully implement AI, companies need a systematic approach consisting of four elements:
An AI Ambition
A portfolio of AI use cases
Ensuring the components needed for a successful AI implementation, such as adequate technical infrastructure and access to relevant data
Actual realization of the use cases
An organization's AI Ambition establishes the overarching goals of any AI application that is developed and deployed. The AI Ambition includes the current status of the company, its competitiveness, industry trends, and potential changes to the business model.

Based on this, you can decide in which areas AI can add the most value to your business - in a particular product, service, and/or improving processes.

You then translate the vision into a portfolio of AI use cases. To build this portfolio, you need to identify and prioritize relevant use cases.

To implement the use cases, you need enabling factors that affect the organization, employees, technology, and the AI ecosystem.

This white paper will help you assess the potential of AI for your organization and provide guidance for developing an AI strategy.
---
Authors of the Whitepaper
Philipp Hartmann, Director of AI Strategy at appliedAI Initiative
Desiree Modic, Head of AI Strategy & Transformation at appliedAI Initiative
Susanne Klausing, Senior AI Strategist at appliedAI Initiative