Steps of the AI Maturity journey
The beginning
Take your first step on the road to AI Maturity
90% of organizations in Germany are just about to take their first steps. This journey is not an optional one, it will hit every company, just as all revolutionary technologies do. Managers and decision makers are starting to be broadly aware of the importance of this technology. And they realize: Starting with AI is not hard at all if one understands and accepts its experimental nature.
How appliedAI can help
Services for experimenter
Academy
AI Introduction course
Artificial Intelligence means very different things to different people and stakeholders. A necessary first step on any AI-journey is to create a common and shared layer of understanding, interpretation, and expectation towards AI-Technology. In this course, we lay the foundation for an AI-Journey by creating a broad, shared perspective on AI and the current technology behind it.
Academy
AI Strategy course
Asking and answering the right questions early on is a primer for success when applying AI. A fundamental first step is getting a clear picture of what an AI strategy consists of, how to create an AI vision and how it relates to the business goals. In this course, we give you a tested and proven methodology for this and deep dive into the specification and implementation of the "Strategy house".
Engineering
Technical Proof of Concept development
All technical implementations should start with a "proof of concept" that shows the technical feasibility of the use case. However, a PoC must also validate the potential for return on investment as well as scalability, usability and maintainability. We build a PoC in short sprints for you with the goal of enabling the next step: Engineering a complete AI-Solution.
Strategy
Exchange of best-practices between leaders
AI is a new technology and right now there is only a little common wisdom about how to apply it. So at appliedAI we foster the exchange between all our partners. At the core of appliedAI is the exchange of best-practices between individual leaders of companies, be it multinationals / DAX or SMEs. Get in touch with other CXOs, managers or fellow AI-Agenda owners.
Strategy
Usecase discovery and specification
There are plenty of opportunities that can be taken with AI-Technology. We help you to identify these opportunities, to specify them and to prioritize them. This includes asking AI-specific questions, understanding the data behind it and building an implementation roadmap. If you want to move quickly then our engineering team can implement the solution for you.
Case Study
Achieving the Goal of Zero Hunger with the Support of AI
"applied AI workshop helped us think through our AI strategy in a fun and structured way." – Fiona Huang, Frontier Innovation Consultant, WFP Innovation Accelerator
The United Nations World Food Programme (WFP) is the world's largest humanitarian organization fighting hunger, saving lives and changing lives while assisting almost 100 million people in around 83 countries each year. Their highest priority is to achieve zero hunger by 2030, directly linked to Sustainable Development Goal (SDG).
So how can AI help to reach this honorable goal? To tackle this question, appliedAI is working with the 2016 founded WFP Innovation Accelerator, which is dedicated to identifying, supporting and scaling on promising ideas and solutions towards a world without hunger and starvation.

On 27 February 2020, appliedAI joined the WFP Innovation Accelerator for a workshop on AI strategy to support WFP on their journey towards an increased AI maturity.
1. Initial Situation and Problem Statement
At first glance, WFP seems to be facing challenges similar to those of many other large enterprises when it comes to AI use cases. There have been some promising outcomes in test cases, but there has been no systematic approach to ideate, prioritize, or implement new use cases , which has ultimately led to isolated developments with limited impact. Additionally, there has been a lack of alignment in relation to where these efforts are supposed to be headed; namely, there is a lack of a clearly articulated, coherent AI vision.
In addition, there are a particular set of challenges that are unique to WFP: the organization is decentralized, which can make it more difficult to have a clear overview, to communicate results, and to foster initiatives efficiently. Data comes from all over the world with very different regulatory requirements, and while the Accelerator is fully dedicated to innovative solutions, there is no core AI team within the larger organization that would be able to invest their whole time pushing this particular area of development. On the other hand, results achieved by solutions have the potential to immediately save thousands of lives.
Moreover, WFP has an immensely broad range of innovative products and services. As a very first step in the AI vision development process, it is essential to look at the complete spectrum and then select those particular areas in which the assigned team recognizes the biggest potential benefit when applying AI. Determining clear focus areas naturally gets more complex when the range of products, processes and services an organization is providing increases.
Overall, WFP's challenge lay in the lack of systematic methodology to develop their AI strategy, and particularly their AI vision, as well as an approach to find the most beneficial use cases to prioritize accordingly the limited resources and to achieve the highest impact.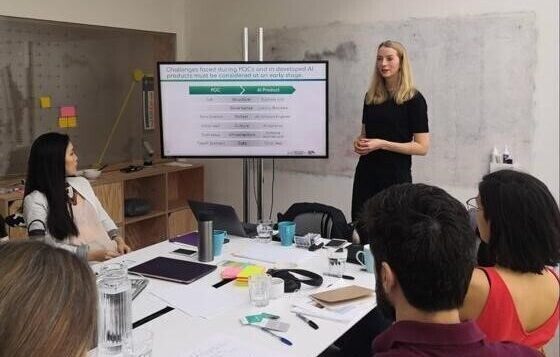 2. Approach and Methodology
To tackle WFP's challenging situation, a full-day workshop was organized at the Accelerator based in the heart of Munich. Eight people, including staff and managers from the Accelerator with various backgrounds, were in attendance. Some were equipped with long-term field operational experience, while others had a technology and innovation background. These diverse skill sets were very beneficial when addressing the varied topics awaiting us that day.
The approach was two-fold: firstly, we introduced our methodology to the development of an AI strategy. Secondly, we worked together on concrete use cases that would give the Accelerator team a solid starting point to take things further.
The methodology of how to develop an AI strategy starts off by providing a framework, which is the appliedAI strategy house. Basically, this is a model that includes all essential parts of an elaborate AI strategy, from the AI vision defining where to go with AI, through use cases and enabling factors such as organization, people, technology and ecosystem, right up to the execution of the AI strategy.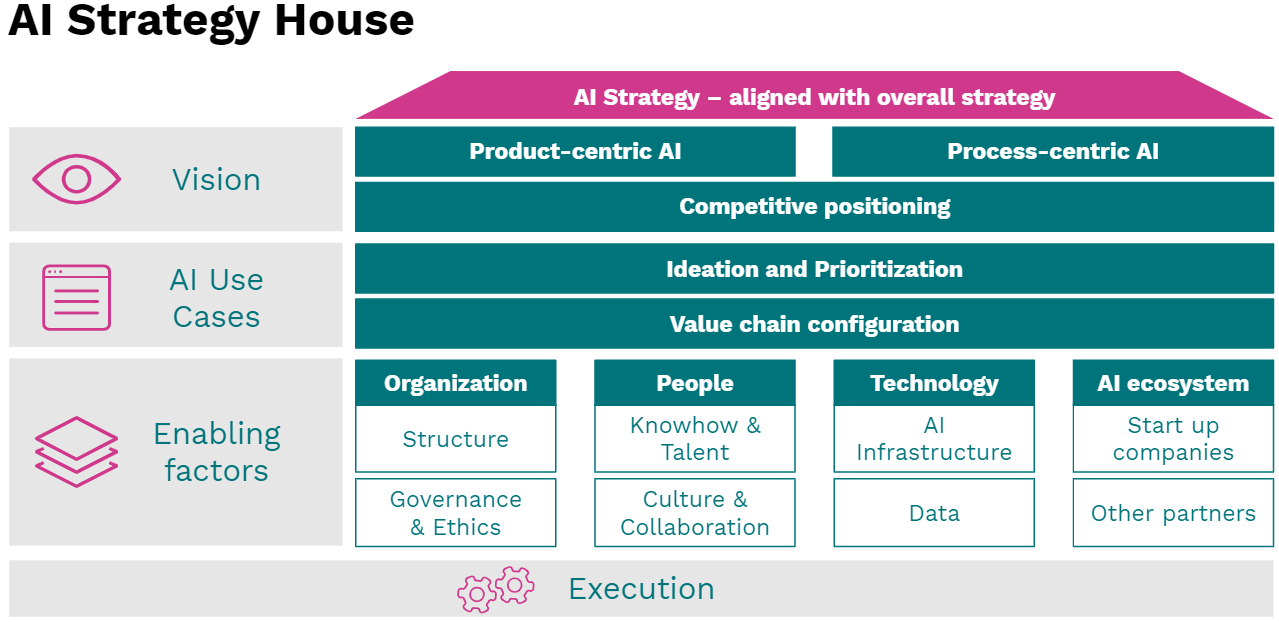 After providing the framework, a systematic process for the AI vision development was shared and carried out with the team. We had an extended discussion aboout what the vision could look like, followed by the team developing a first draft of a potential vision for WFP. Following that, the workshop's major focus shifted to sharing and applying a structured process around use cases. We took a step by step approach to this, covering a systematic way of use case ideation, assessment, prioritization and execution. As part of the ideation, we also introduced the appliedAI use case playing cards, which were deployed by the team quite creatively.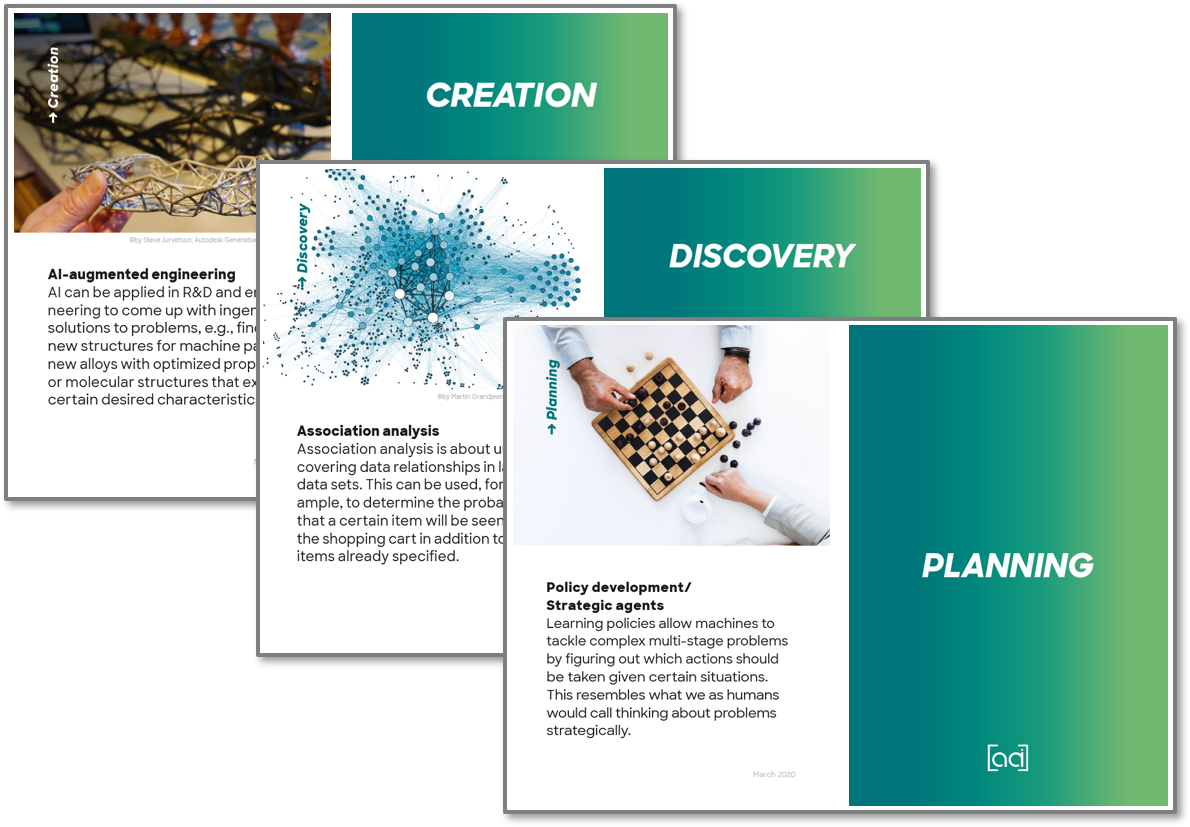 The results of the workshop were, firstly, the identification of four concrete products, processes and services for which the team saw the biggest benefits in AI application, and to come out with a first draft for a potential AI vision matching these benefits. Secondly, concrete use cases catering the vision were ideated, which the team plans to pursue within the organization. Finally and most importantly, the workshop resulted in the provision of a clear methodology for the development of a comprehensive AI strategy for WFP.

The WFP team concluded that to envision and execute an actionable and valuable AI strategy will take not only time but buy-in from top management to field officers. As next steps, the Accelerator will facilitate conversations around AI topics amongst various country offices and business units within WFP, while developing successful use cases to demonstrate the potential of AI. The appliedAI workshop was the first step towards building this AI competency. The workshop armed the team with methodology and tools to kick-start the tough but exciting journey of utilizing artificial intelligence to disrupt hunger, on which appliedAI will continue to accompany WFP.