Accelerating AI at Infineon Austria
"Grow your knowledge and best practices in AI innovation! AI is about creating change and you can be a change ambassador for our organization with all your learnings. This know-how will get you far – and the last mile you will walk by spreading your enthusiasm and convincing allies. I wish you all the best for our joint AI journey!" - Sabine Herlitschka, CEO Infineon Austria


As a leading semiconductor manufacturer, Infineon Technologies helps customers to realize their ambitions regarding Artificial Intelligence. This is why they continuously train their employees 'AI Innovation Muscle'. In this context, Infineon started a new AI Program at its Austria site in Villach. Within 4 months, employees from various departments can join forces to develop new skills and realize their own #AI project. Together with appliedAI, they grow their AI maturity and systematically learn to ideate and scale AI solutions.

The program was brought to life by Infineon's AI Center of Excellence Team in Munich together with Infineon Austria (IFAT). The success was made possible by the strong endorsement of Sabine Herlitschka, Infineon Austria's CEO, and facilitated through Infineon's innovation accelerator program.
Infineon approached appliedAI with the idea to offer an AI innovation program at its Austrian site in Villach. Jointly, appliedAI and Infineon came up with the concept for a hands-on training program piloted at Infineon Austria. The resulting training program, AI Heroes, aims to accomplish the following three objectives:
1. Upskill a heterogeneous group of employees at IFAT on the topic of AI.
2. Enable participants to systematically innovate on AI use cases and to accelerate AI at Infineon.
3. Empower participants to become AI ambassadors at Infineon Austria and worldwide.
The following case study gives insights into this innovative educational offer and its results. Learn about an efficient and holistic way to upskill a diverse set of employees in your organization on the topic of AI.

.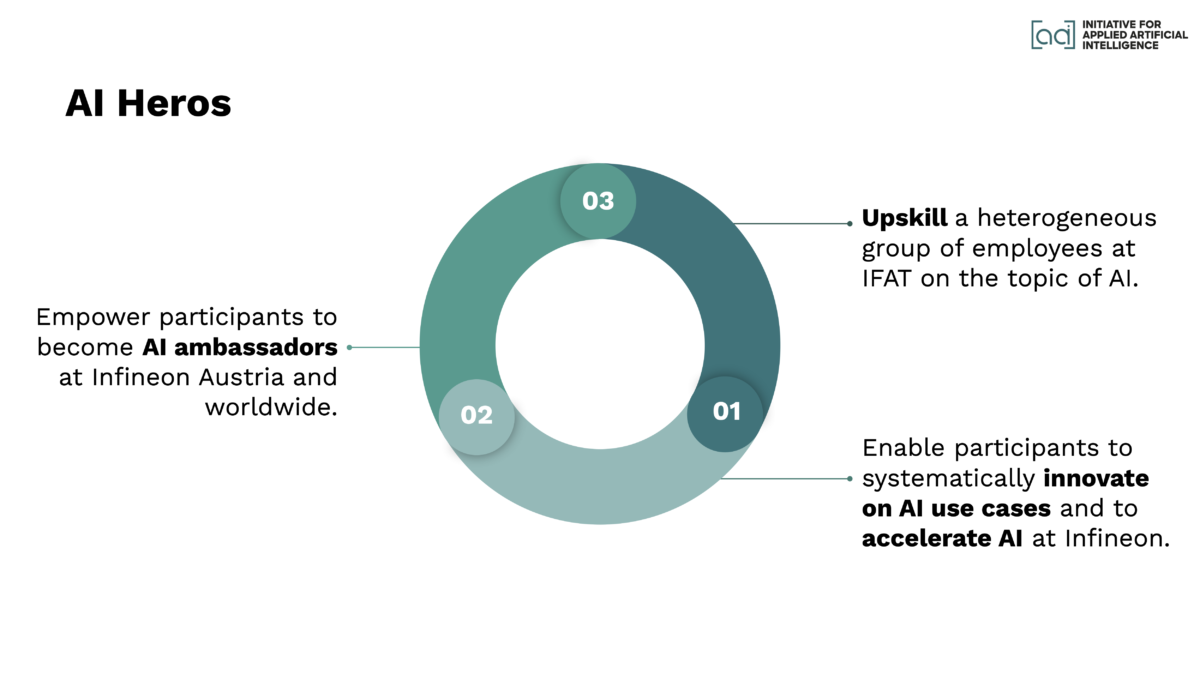 AI is always a team sport. We are thrilled to bring together technical, business and strategy experts of Infineon with appliedAI change makers behind one goal: Bringing AI Innovation to the next level at Infineon Austria and beyond!

Nico Kelling, Head of Infineon's AI Center of Excellence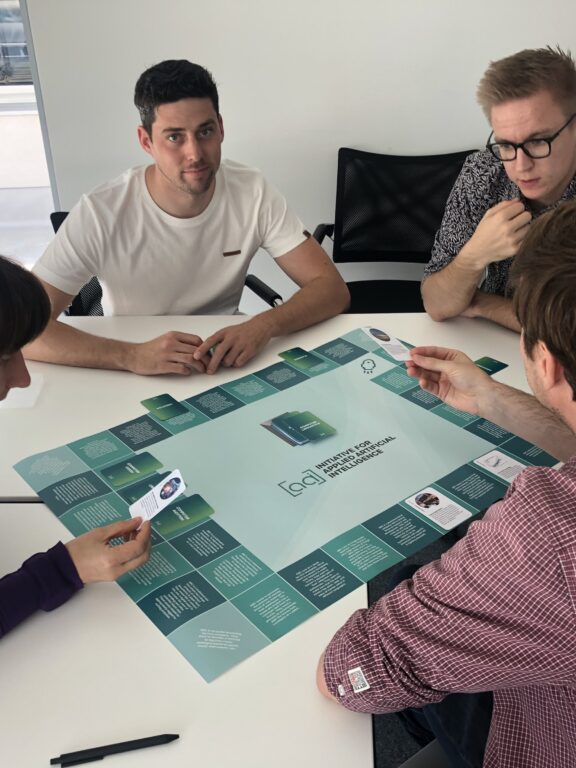 Initial Situation and Problem Statement
As a high-tech company, Infineon has an excellent surrounding for AI Innovation: Technical and business experts are well-versed in the importance of AI and the new possibility it opens. Infineon wanted to create a free space where AI enthusiasts could think out of the box and dive deeper into AI's potential and unfold their own AI use case ideas. Bringing the potential of Infineon's chip hardware together with AI's possibilities in creative ways will be a boost for Infineon's future portfolio. Creating a strong network of AI enthusiasts was at the heart of the new program and will work as a driver of change for high levels of AI maturity at the company.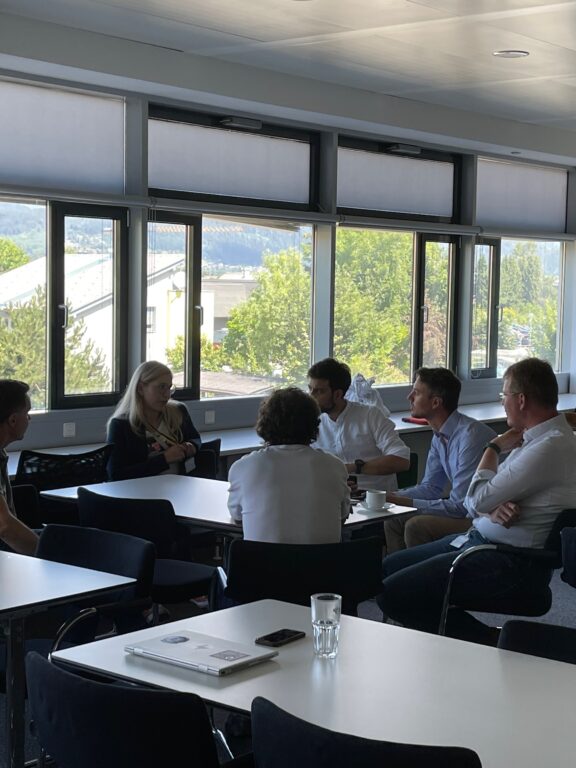 Approach and Methodology
The novel educational program was developed by appliedAI with the learners' needs in mind. As a first step, an interdisciplinary team, including instructional designers, AI engineers, and AI strategists, was formed to guarantee diverse perspectives contributing to the project.
The first milestone was accomplished through the development of an extensive learning journey tailored to Infineon Austria's (IFAT) ideas and requirements.
The envisioned learning journey consists of three main phases including various areas of interest. The resulting curriculum is described in detail below.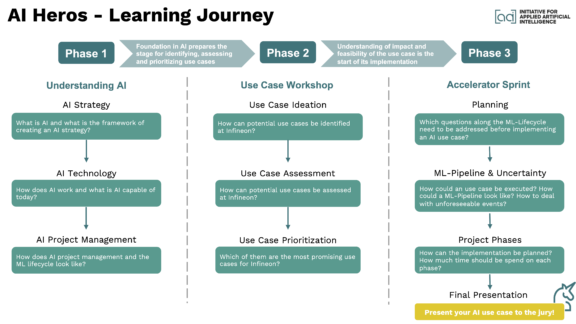 "AI Heroes" was conceptualized utilizing a blended learning approach. Blended learning describes a teaching method that blends asynchronous and computer-mediated self-studying with synchronous face-to-face sessions. This opens the opportunity for participants to come prepared for the live sessions, which increases learner success and engagement. More concretely, learners were given reading materials ahead of time and some guiding questions to answer in an online forum. In the face-to-face sessions, these answers were discussed and put into context. During live sessions, participants had the chance to individually learn new information and teach it to their peers.

While training materials were developed by appliedAI's instructional designers with various subject matter experts, the actual live sessions were delivered by AI engineers and AI strategists. Hence, participants had the opportunity to interact with experts in the field of AI. Infineon organized events to strengthen the AI community and inspire AI-related discussions in the company. For example, Infineon organized fireplace talks, Q&A sessions, and an elaborate welcome day for their future AI heroes.

The training was first delivered as a pilot program on nine training days over a span of nine weeks in spring 2022. Overall, the feedback was very positive both from Infineon and the participants themselves. Needless to say, participants gave insightful and constructive feedback.

In summary, participants left the program with the following feedback:
The program gave an excellent overview of AI and its different aspects

Interactive elements were highly appreciated

Trainers were lauded for their in-depth knowledge
At the final presentation day, the jury attested a very high quality of the ideated and planned AI use cases. They ranged across different domains, e.g. anomaly detection in manufacturing, smart project planning as well as AI for sustainable battery management. Four of the ideated use cases will be continued after the program and have already secured funding for the next phase – this testifies to the excellence and relevance of the participants' work in bringing these ideas to life!

Outcome and next steps
Within the described project appliedAI and Infineon developed and delivered a hands-on training program for Infineon, which upskills Infineon's employees on the topic of AI and enables them to systematically innovate on AI use cases: Participants did not just learn innovation frameworks but also gained valuable experience in applying those approaches on the spot. Iterating from a rough first idea to a use case prototype tremendously increased their learning curve to accelerate AI and to become AI ambassadors for the company. Overall, the program created a vibrant community of future AI ambassadors from different parts of the organization who will be the best advocates and multipliers for AI throughout Infineon! Due to the big success, a new batch of Austrian "AI Heroes" will start their innovation journey in 2023.
More information about AI at Infineon can be found here.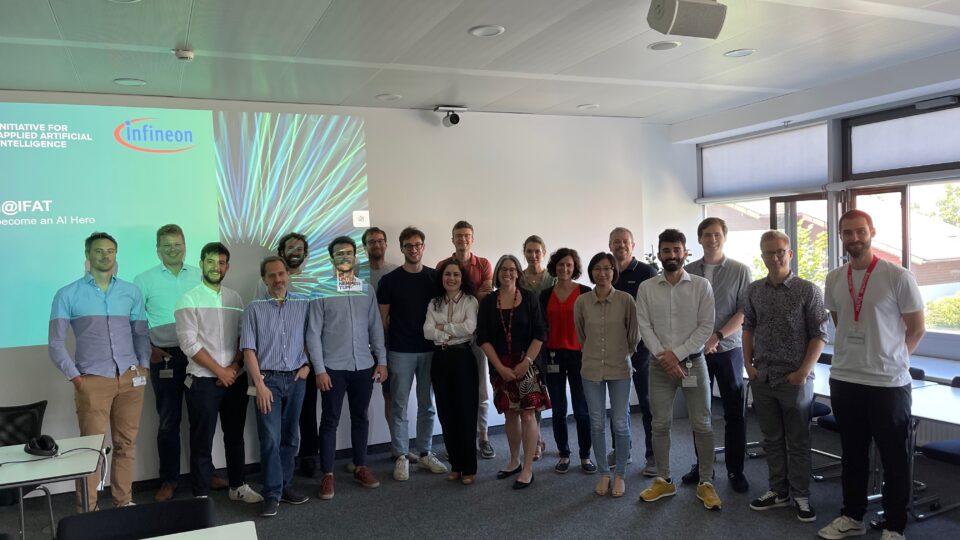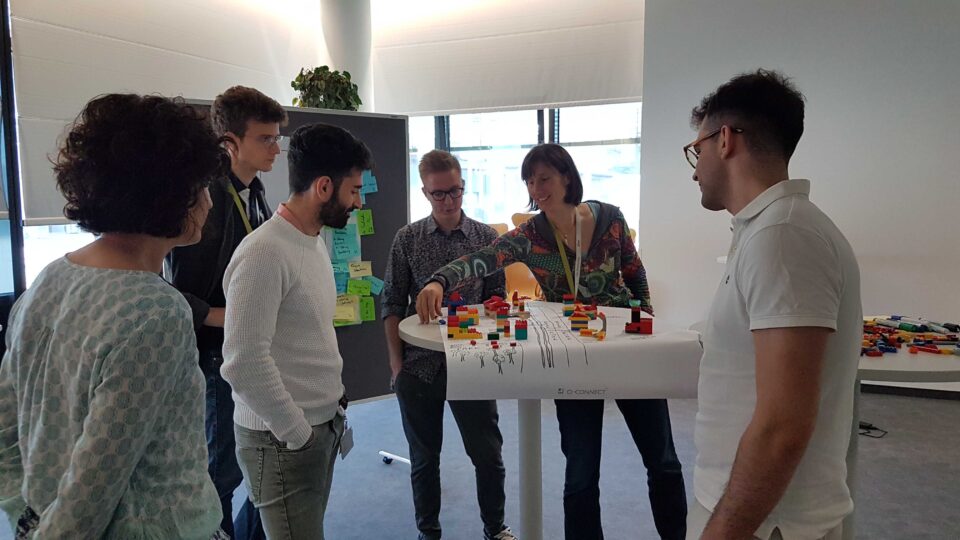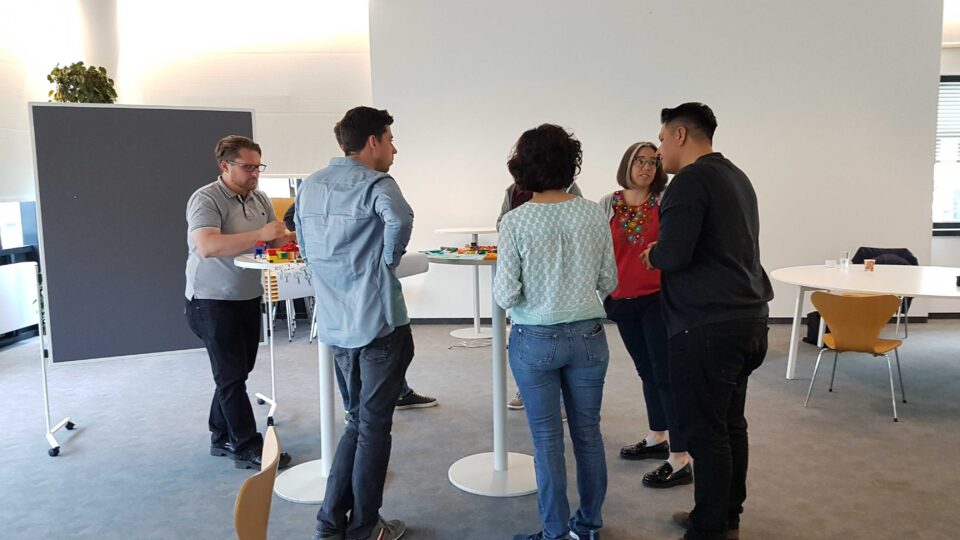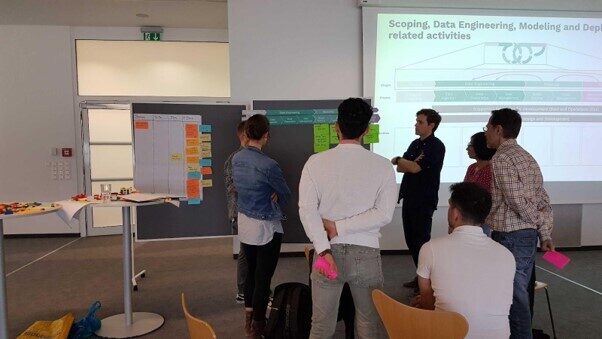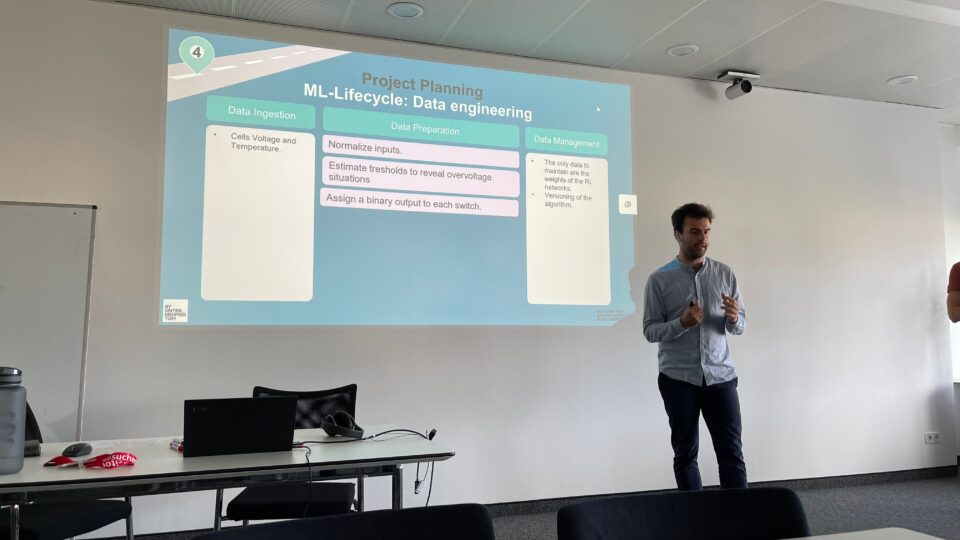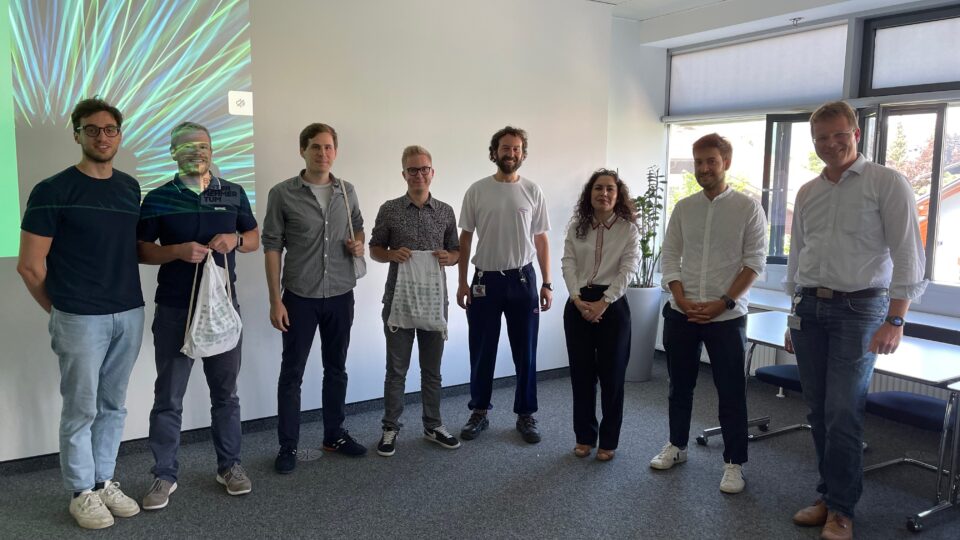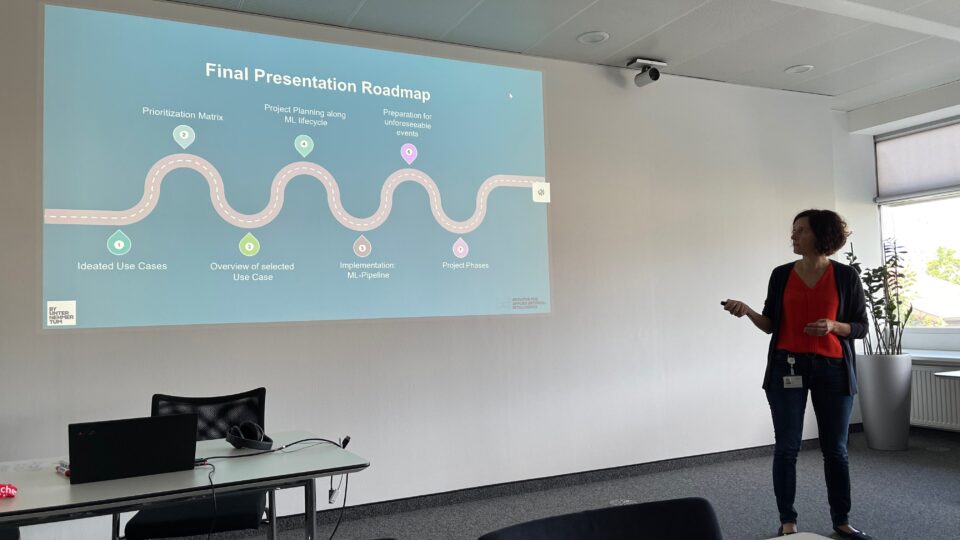 In partnership with
Infineon Technologies AG